PMC Kids Rides Program Raised $1 Million for the First Time
We are thrilled to announce that in 2019, the PMC Kids Rides program raised more than $1 million for the first time ever! This record-breaking Kids Rides total is part of the Pan-Mass Challenge's largest gift ever to Dana-Farber Cancer Institute, $63 million. One hundred percent of every rider-raised dollar, from adult PMC cyclists and kid riders alike, directly benefits cancer research, treatment and patient care at Dana-Farber.
We are immensely proud of how the PMC Kids Rides program has grown over the years – raising more than $10 million in total since 2005 – and are so grateful to all the children and families who ride and fundraise.
"I cannot think of a better way to commemorate our milestone 40th ride than with our largest gift ever to Dana-Farber," said PMC founder and executive director Billy Starr. "I'm incredibly proud of the role the PMC has played in furthering advancements in cancer research and treatment over the last four decades – it is thanks to the drive and commitment of our entire community of riders, volunteers, sponsors and donors that we have been able to give more than $717 million to Dana-Farber since 1980, making a truly unparalleled impact in the fight against cancer."
PMC Kids Rides became an official PMC program in 2005 as a way to include young cyclists in the PMC mission raising money for cancer research and treatment at Dana-Farber Cancer Institute. This year, there were more than 25 rides held throughout Massachusetts, New Hampshire, and Connecticut.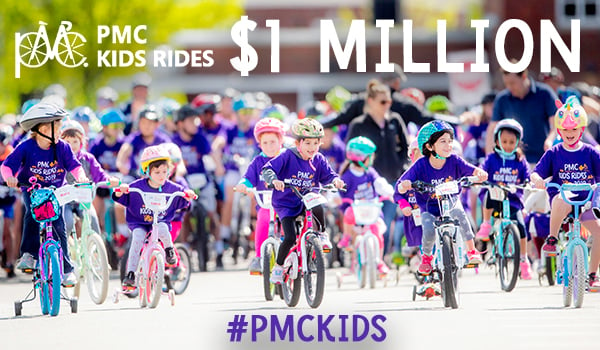 Read more about the 2019 PMC gift to Dana-Farber Cancer Institute.